The Implications of the Regulatory Assault on For-Profit Colleges and the Light at the End of the Tunnel | Business Law Review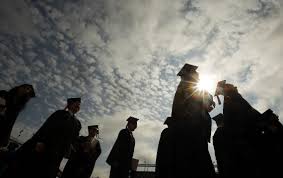 Gabriel A. Lievano –
For the past 6 years, the Department of Education has waged war on for-profit colleges. The Department justifies the regulatory assault in the name of protecting students from predatory colleges. The reality is that the regulatory model not only threatens the closure of many for-profit colleges, but also leaves the taxpayers to pay the bill, and non-traditional students without alternative education options.
Since its early days, the Obama administration sought to rein in for-profit colleges, amid a sharp rise in students dropping out and defaulting on loans. In 2010, the administration proposed a plan to penalize vocational schools that leave students with large debt. After a long court battle with the private college industry, the plan went into effect in 2015. The plan proposes to cut off federal aid for career-training schools if their alumni's earnings are low relative to their student-debt burden. The administration also completed rules that make it easier for borrowers to discharge their student debt, under a law known as "borrower defense" or "defense to repayment."
Hundreds of for-profit college programs are in danger of closing, as most of them rely on access to federal student loans and grants for most of their revenue. One of the most notable closures was Corinthian Colleges in 2014, which resulted in taxpayer cost of about $350 million. Taxpayers may receive a similar bill for ITT Technical Institute's closure in September as government officials have estimated that former students could seek forgiveness on as much as $500 million in federal loans. Overall, the Department of Education estimates that the plan will cost taxpayers between $9.5 billion to $21.2 billion.
Progressives facilitating the bludgeoning on ITT Tech and Corinthian proclaim themselves as "student-debt liberators." What they fail to see, however, are the human costs of the regulatory assault: the sweat and tears of students who lose their progress. When colleges like ITT Tech and Corinthian are forced to close amid regulatory onslaught, many students who were not able to finish their course of study are not able to transfer their credits to other institutions. For-profit colleges like ITT serve non-traditional students like single mothers, veterans, and full-time workers, who mostly come from low-income backgrounds and have previously attended community colleges. These students choose for-profit education for the hands-on training, and for the improved student outcomes over the local community college.
Now that the Obama administration has come to an end, for-profit colleges are hoping that the Trump administration is the light at the end of the tunnel. While President Trump has yet to reveal how his administration will handle federal regulations on for-profit colleges, investors are betting on the easing of regulations. President Trump's pick for Secretary of Education, Betsy DeVos, provides a good estimate of the future as she has pushed for expanding private-sector options in primary and secondary education.
The Obama administration's targeting of for-profit colleges, while well-intentioned, has had some disastrous consequences. The consequences span further than just closure of institutions. Going forward, lawmakers should relax regulations on the industry, while demanding that for-profits tighten their admissions standards to avoid admitting students who are most likely to dropout or default on their loans.