Norma Ford Financial Aid Professional of the Year
"The Norma," as the award is affectionately called, was created in honor of Norma Ford, CAPPS long-time Financial Aid trainer and CAPPS Board Member. Norma passed away in 2010. She was a dedicated and brilliant Financial Aid professional, who never failed to take the time to assist others and help them understand the intricacies required in working with students, schools, and others to successfully manage the financial aid process.
The nomination period for the 2017 Award ended on August 21, 2017.
The award will be presented at the CAPPS 33rd Annual Conference, October 11-13, 2017 at the Hyatt Regency Mission Bay in San Diego, CA.
Nomination Guidelines
Nominees must be nominated by their Institution. The Institution must be a CAPPS Member in good standing.
Nominees must have at least 3 years experience as a financial aid professional.
In the nomination submission, please describe how the nominee goes above and beyond "duties as required" in the performance of his/her professional duties.
---
Recipients of The Norma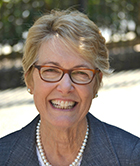 2016: Elizabeth Schaefer
2015: Donna Paige
2014: Andrea Georges
2013: Opel Oliver
2012: Pat Troxel
2011: Laura Bouche
2010: Tracy Cabuco