Platt College San Diego
12/09/2010
Al Medro
Vice-President
6250 El Cajon Blvd.
San Diego, CA 92115
P: (619) 265-0107
F: (619) 265-8655
amedro@platt.edu
www.platt.edu
FEATURED MEMBER – FEBRUARY 2014
Why Platt College San Diego?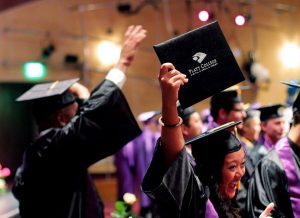 Platt College San Diego's educational programs are designed
to empower students andgenerate an atmosphere of learning and development. Whether it is your first time in college, returning to college, transitioning from the military, an international student, or another scenario, we are happy to provide the information applicable to each unique situation. At Platt, students are not just another number; they are a part of the Platt family. We care about each student and their future from the first day until long after graduation. We look forward to learning about your goals!
Why Platt College San Diego Is Different:
We are committed to keeping our tuition as low as possible.
Platt's degrees and programs are career-focused. We offer an education that allows a student to become marketable.
Digital creation changes constantly and Platt College San Diego keeps up with the evolutions. Our technology is updated to remain relevant in today's' quickly changing industry.
Our school structure is designed to fit the student's life, not the other way around. Students take one class at a time and focus on one important skill. As the student progresses through their education, their skill set builds on the last class. Class sessions are offered in the Morning, Afternoon and Evening.
Career Services are available to current students and alumni. A Career Services representative meets with each student to set up a day one meeting and continues to provide resources through graduation and beyond.
Enjoy the school spirit at Platt College San Diego. Students at Platt are the number one priority of the staff and faculty. Courtyard activities and more often bring students, faculty and staff together for both celebration and educational events.
We encourage all students to take advantage of the many opportunities to showcase their artwork at galleries and exhibits throughout the San Diego area. As a student at Platt College San Diego, you may encounter several ways to display your designs! Student work and articles may be found on Platt's social media channels.
Extracurricular activities provide students a variety of opportunities to become inspired outside of the classroom. We encourage students to participate in field trips, competitions, art exhibits, community and cultural activities.
Q & A Session: Frequently Asked Questions about Platt College San Diego
Are there any extra costs beyond the fee for the program?
No, there are no extra costs beyond the program fee.  All books, supplies and materials are included. Anything that is required for class will be provided.  There are no printing fees, lab fees or parking fees.
What types of programs does Platt offer?
Although we specialize in Digital Media Design, we offer various types of programs. For students who may not want to commit to an Associate's or Bachelor's Degree, we offer a Diploma Program.  For students who want to continue on, they can earn an Associate's or Bachelor's Degree. Students can earn an Associate's Degree in Graphic Design or Multimedia Design or a Bachelor's Degree in Web Design, 3D Animation, Digital Video Production and Visual Effects & Compositing.  We also provide Professional Development courses for professionals who may want to brush up on their talents or learn more current skills.
How does Platt College San Diego prepare me for a career?
Our Career Services department is always working to find employment opportunities that will benefit our students.  To enhance the education our students receive in the classroom our Career Services department provides assistance in interviewing skills, resume writing and job search techniques.  We often invite industry leaders to our campus to share their best knowledge about getting hired and working in the media arts industry.  In addition, exhibits are created annually to prepare our students in the craftsmanship of creating, displaying and sharing their work with others.  Most recently, we held our annual Portfolio Showcase which showcased work from 27 of our students and allowed them to meet with over 45 employers in the field.  Our goal is to get our students working!
What projects have Platt students and alumni been a part of?
Our students and alumni are pretty great, but it's not just us who think so!  Gwen Stefani and the members of No Doubt have publicly recognized the work of one our current students. While another of our students has had the opportunity to photograph the Black Eyed Peas.  Our students also participate in the annual 48 Hour Film Project which requires students to write, film, and edit a short film in only 48 Hours, talk about pressure! Our alumni have also had great opportunities to be a part of the following films: The Avengers,Pirates of the Caribbean: On Stranger Tides, Avatar, and Ice Age.
Are there any extracurricular activities on campus?
Yes, we have many extracurricular activities on campus.  We believe that school is not only a place for learning but for discovering your potential, meeting new friends and having fun. Extracurricular activities are an integral part of the college experience and we do our best to provide exciting and meaningful activities for our students. Students have an opportunity to participate in events outside of the campus such as field trips to Comic Con, The Getty Museum, The Lyceum Theater and our biggest event of the year, the annual trip abroad! Our students have gone to places such as China, Greece, Italy and many more.  We also have fun on campus with holiday celebrations, Halloween Costume Contests, raffles and music, dance and poetry demonstrations.  While we like to have fun, we also like to balance that fun with a sense of community and by taking the time to volunteer. We have raised thousands of dollars for those affected by the tragedies in Japan; West, Texas; Boston, Massachusetts and most recently the Philippines.
Do you welcome military personnel?
Absolutely! We are extremely proud to be on the 2013 Military Friendly Schools list which honors the top 15% of colleges, universities and trade schools in the country that are doing the most to embrace America's military members, veterans and their families. Although we are proud of this honor, we are even more proud of our students who have, and continue to, selflessly serve our country.
How can I visit the campus?
Each day we give tours to perspective students and their families. We also encourage those who are interested in learning more about our school and who would like to visit the campus to attend one of our "Welcome Wednesdays."  In addition, middle and high school students who want to have a more hands on experience are welcome to participate in our summer program, "CG (Computer Graphics) Week."  During CG Week, students work with our instructors to learn the basics of Photoshop, Animation, Graphic Design and much more.