Google to launch 3 more tech certificates on Coursera – Education Dive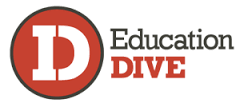 Natalie Schwartz
July 14, 2020
Dive Brief:
Google is launching three certificates on Coursera's online platform in a bid to help workers affected by the coronavirus pandemic, the company announced this week.

The certificates — which will be in data analytics, project management and user experience design — will cost $49 a month and take three to six months to complete. Google will fund 100,000 need-based scholarships for those who take them.

The new certificates build on Google's ongoing efforts to shape curriculum at community colleges and build a pipeline of workers with the skills it needs.
Dive Insight:
The pandemic has put millions of people in the U.S. out of work, with unemployment levels peaking at 14.7% in April. Although the unemployment rate fell to around 11% in June, the recent surge in confirmed coronavirus cases across the country could hamper economic recovery.
Google bills the new certificates, which will be available by the end of the year, as a way to help people without college diplomas find jobs. It will consider the completion of one of the programs as equivalent to a four-year degree for relevant roles at the company.
Google already offers two information technology certificates through Coursera.