Excellence In Community Service Awards 2016



(Left to right: Robert Johnson, Yasith Weerasuriya, 

Elaine Ikeda)
For years, Stanbridge College has been giving back to the local and global community through a variety of community service and service learning initiatives. Stanbridge has been named to the President¹s Higher Education Community Service Honor Roll by the Corporation for National and Community Service for six consecutive years, and was the recipient of the 2013 ACCSC Excellence in Community Service award from the Accrediting Institution of Career Schools and Colleges. Their efforts have had an incredible impact on food security, the delicate ecosystem of the Upper Newport Bay, animal welfare, and the health and wellness of seniors and the disabled. By co-founding the Free Pantry Organization, Stanbridge College has helped to distribute over 840,000 pounds of free, fresh produce to those in need. Stanbridge students, staff, and faculty have raised over $130,000 and volunteered to prepare and serve over 19,000 home cooked meals to feed the homeless of Orange County. Stanbridge veterinary technician students have provided free veterinary care for over 543 homeless cats and dogs, and it¹s nursing students provide health screenings for over 120 seniors each month. Stanbridge has raised thousands to benefit charities around the world including $3,920 for the victims of the Nepal earthquakes, and $9,987 to help Free Wheelchair Mission provide wheelchairs to people in developing nations. Stanbridge students have volunteered over 1,100 man hours mentoring young adults with autism with Life College, an organization which helps young adults with autism, fragile x, and other disabilities transition to independent living and gainful employment. Graduate students at Stanbridge have partnered with the WAVES project to help American combat veterans with PTSD treatment through the therapeutic benefits of underwater diving. Through these and many more service initiatives, Stanbridge endeavors to create professionals with a foundation of compassion who will make a lasting impact on their community.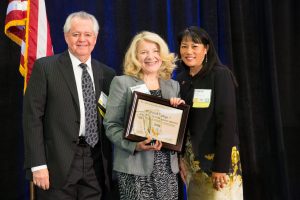 (Left to right: Robert Johnson, Joellen Sutterfield, Elaine Ikeda)
Unitek College provides students with quality education while engaging in community service projects that foster leadership and goodwill. Unitek's students have volunteered over 8,000 hours to help over 20,000 people by hosting and volunteering at local health fairs, coordinating disaster-preparedness trainings, and supporting local food banks, blood banks, and health organizations. Unitek brings together local government agencies and healthcare providers to bring free health screenings and wellness resources to their community at annual health fairs. Unitek's Operation Urban Rescue united national and state emergency organizations, and over 500 participants for a multi-faceted disaster preparedness training event. Nursing students at Unitek performed around 400 in-home senior visits annually, also contributing services to Red Cross blood drives, flu clinics, and support for disabled veterans. In order to promote positive change for all, Unitek is committed to engaging and empowering students, as well as the community.

(Left to right: Robert Johnson, Roy Hurd, Sherie Hurd, Elaine Ikeda) 
Empire College
Bronze Award Winner
www.empcol.edu
Empire College inspires students to commit to lifelong advances towards positive outcomes in the community. Empire has been named to the President's Higher Education Community Service Honor Roll with distinction for the past three years and the Empire College Board of Directors was recognized by the Sonoma County Board of Supervisors as a 2015 Jefferson Award honoree for public service. The school has engaged in several fundraisers for local charities, including Children's Village of Sonoma, as well as Roseland Children's Health Center. Accounting students provide free income tax services to low-income residents and helped secure over $660,000 in tax refunds through United Way's program, Earn it, Keep it, Save it! Empire College's Law School meanwhile, in accordance with the Sonoma County Courts and Bar, erected five clinics to offer pro-bono legal assistance to the elderly and disabled. Medical assisting faculty and students at Empire College provide free health services to thousands of people, and each year volunteer to assist the Sonoma County Flu Task Force in administering vaccinations at the Empire campus.
*Special thank you to John Decker Photographer for providing the images of the Legislative Policy Conference.