DeVos considers reinstatement of for-profit accrediting body | Education Dive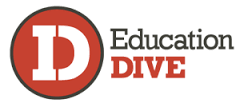 DeVos considers reinstatement of for-profit accrediting body
U.S. Education Secretary Betsy DeVos is considering whether to cut off federal funding for dozens of for-profit colleges serving more than 100,000 students, according to a report in the Wall Street Journal.
She must decide if the department will recognize the Accrediting Council for Independent Colleges and Schools (ACICS) as an authorized accrediting body for for-profit colleges and universities. Last month, DeVos stirred controversy when she granted authorization to the organization following a court-ordered reversal of ACICS' ED ban, issued by the Obama administration.
DeVos has publicly championed alternative education institutions from the start of her administration. But she could run into considerable opposition for ACICS reauthorization, which has drawn criticism for the high percentage of loan defaults and a disproportionate number of minority students carrying high post-graduation debt loads.
ACICS member institutions served 175,000 students during the 2015-16 academic year, who borrowed $624 million in federal loans. Officials within the Department of Education are expected to recommend against reinstatement in a forthcoming report, but that report may not sway DeVos' decision.
Dive Insight:
The Trump administration's approach to higher education could be described as uneven, given the proposed cuts the Department of Education proposed against the historic gains approved by Congress in its final continuing resolution. While the surface-level concern for the department may be bad press and criticism from the higher education industry, the real concern is for-profit schools again flooding the marketplace with advertising, recruitment and lobbying tactics that could recreate the enrollment wave favoring for-profit schools garnering billions in federal student aid dollars.
But if DeVos returns an affirmative decision for for-profit institutions, nonprofit colleges and universities may have done enough during the last two years to avoid a swell of students opting for for-profit education. While studies show that many adult learners choose for-profit institutions for the convenience and perceived support they receive, new research suggests that students learning in blended or exclusively online programs offered by traditional institutions have better retention and graduation rates — a clear and convincing talking point against for-profit institutions.