Employment Opportunity: Director of Admissions – Institute of Technology
Posted by

Date

November 8, 2017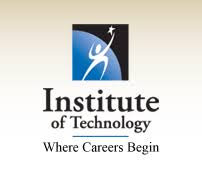 Institute of Technology 
~ Director of Admissions:
 Are you experienced in the area of college admissions with a passion for leading a team to success?  Join the Institute of Technology (IOT) admissions team and invest in your community's future professionals!
Located in Central California, Institute of Technology – Modesto is an established and respected name in post-secondary education and enrolls approximately 400 students annually. The school's central location is within a short drive of the ocean, mountains and some of the nation's most renowned national and state parks. Modesto is in the heart of one of the greatest agricultural areas in the nation, the fertile San Joaquin Valley. Dairy products, nuts, fruits, wine grapes, and poultry products are some of the top commodities of the region. Institute of Technology takes advantage of all the area has to offer by teaching 8 programs at the Modesto campus, including: Medical, Culinary Arts, Criminology and Emergency Response Management, and Heating/Ventilation and Air Conditioning. The Modesto campus was established in 2002 and has steadily expanded to include new programs such as Vocational Nursing. We are committed to student success, and meet the educational and training needs of our population with excellent and affordable courses and programs, offered by an experienced and inspiring faculty. We have an exciting future and we invite applications from those who share our vision and our commitment to excellence in education.
IOT will present you with the opportunity to collaborate with a team of educational experts and other professionals, to expand your professional network, and most importantly make a difference in the lives of local students. Come join our family and experience work that you love!
Essential Duties and Responsibilities:
The Director of Admissions is responsible for meeting or exceeding minimum company standards for the Admissions Department, including start objectives and overall staff ability
Manage Admissions Representatives
Supervise the hiring, training, and review of all admissions staff members
Provide admissions staff advising
Assist with the marketing of the schools programs
Meet or exceed campus start goals
Meet or exceed personal start goals
Provide required reports and support to the marketing agency
Provide Campus President with monthly, quarterly, and annual reports as outlined in Admissions Standards
Assist in the development of Quarterly Improvement Plans
Perform second interviews with a percentage of student applicants to ensure compliance with governing agency regulations
Review admissions files and approve start prior to forwarding files to financial aid
Re-assign leads as needed
Participate in weekly staff and management meetings, in-service sessions, student orientations, graduations, advisory board meetings, and other school events as required by the school.
Other duties as required by the Campus President
Required Knowledge, Skills, and Abilities:                      
Minimum of 3 years admissions experience; admissions management experience preferred
If this is the career opportunity you have been waiting for….. Contact us today!