Employment Opportunity: Director of Education – Institute of Technology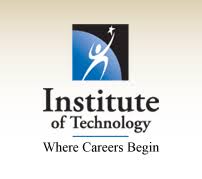 Institute of Technology
~ Director of Education:
 Are you an experienced educator with a passion for teaching?  Join the Institute of Technology (IOT) team and invest in your community's future professionals!
Located in Central California, Institute of Technology – Modesto is an established and respected name in post-secondary education and enrolls approximately 400 students annually. The school's central location is within a short drive of the ocean, mountains and some of the nation's most renowned national and state parks. Modesto is in the heart of one of the greatest agricultural areas in the nation, the fertile San Joaquin Valley. Dairy products, nuts, fruits, wine grapes, and poultry products are some of the top commodities of the region. Institute of Technology takes advantage of all the area has to offer by teaching 8 programs at the Modesto campus, including: Medical, Culinary Arts, Criminology and Emergency Response Management, and Heating/Ventilation and Air Conditioning. The Modesto campus was established in 2002 and has steadily expanded to include new programs such as Vocational Nursing. We are committed to student success, and meet the educational and training needs of our population with excellent and affordable courses and programs, offered by an experienced and inspiring faculty. We have an exciting future and we invite applications from those who share our vision and our commitment to excellence in education.
IOT will present you with the opportunity to collaborate with a team of educational experts and other professionals, to expand your professional network, and most importantly make a difference in the lives of local students. Come join our family and experience work that you love!
Duties and Responsibilities:
This position reports to the Campus President and directly supervises faculty. The Director of Education is responsible for:
Retention and attrition management
Coordination of approved curriculum
Verifies that the curriculum is delivered consistently as to content, scope & sequence as approved
S/he will participate in and support academic program reviews and ensure that IOT Educational Best Practices are being maintained and followed per approved guidelines.
Responsible for hiring and mentoring staff to excellence
S/he will perform classroom evaluations to determine compliance and must be an effective communicator
The successful candidate will be skilled in management; curriculum development; educational effectiveness assessment and improvement; and faculty development
S/he will be a team player with a collaborative leadership style; skilled in effective use of information technology for both administrative and instructional purposes; and will be an active participant in daily campus activities
Professional Qualifications:
The successful candidate will have a minimum of a Bachelor's degree, Master's is preferred; and have a minimum of 3 years of academic management experience. This candidate will also possess a high level of problem solving and decision making skills.
If this is the career opportunity you have been waiting for….. Contact us today!